The British School in Tokyo様 設置事例(日本語)
"The British School in Tokyo" Web site
The reason for installing EEW
To provide children and staff with early warning of an earthquake so they can duck & cover before the earthquake happens. With small children (from 3 yrs old) if we have an early warning we will hopefully be able to react better and make children safer.
The reason for selecting HomeSeismo
The adviser from outside of our school referred this company to us.
Changes after setting up HomeSeismo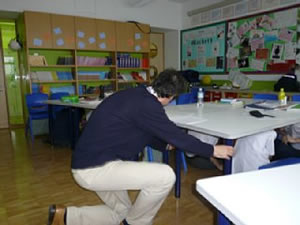 I think it gives staff and students more of a sense of safety as they would get a warning if an earthquake was about to hit.
Certainly parents seem happy that we have installed the system.
After installation we could run more realistic earthquake drills, including evacuation of the building and getting children to put on head protection.
It also made people realize, foreign parents especially, that earthquakes could be detected before they happen and preparations can be made.
Drills 3 times a year using the HomeSeismo.
It's very beneficial although it does make younger children scared the first time they hear it.
Generally students react well and 'duck & cover' quickly.
Installation situation

Showa Campus
Installation location

Wall

Sound output

Public Address

Contact output

Public Address(Start/End)